A Behind the Scenes Look at The Dog Cafe LA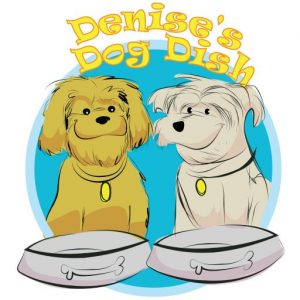 The Dog Cafe LA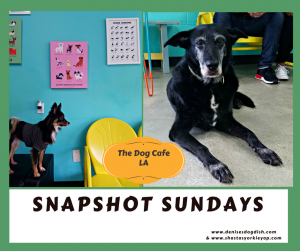 Have you heard of The Dog Café? In November 2016, Cat Alley Lady wrote a blog post about her trip to the Los Angeles Cat Café. Immediately I loved everything about the idea and wondered if there was a dog version. Cat Alley Lady let me know that Los Angeles has the 1st dog café as well. As you can imagine, I started planning my trip immediately. January 18, 2017 my dream became a reality.
At 12:45 pm I arrived in the area.   I'm the 1st to admit I am a bit directionally impaired and WAZE (A MUST HAVE FREE APP) is my best traveling friend. However, even with WAZE, downtown Los Angeles, where N Virgil Avenue and Silver Lake Blvd meet is a very busy intersection and my early arrival time quickly decreased. I phoned The Dog Café and was nicely directed to their location. I had both Shasta and my luggage for a weekend in San Diego and was reassured to know they have a security guard on site with underground parking.
After ordering my beverage (complimentary with my $10 fee-I believe it is now $15 but whose counting as it helps the dogs) and receiving my session number/badge I was able to enter the second part of The Dog café where the interactive dog area is located.
The Dog Café opened in April 2016 and Kennedy (who has been there since May 2016) was happy to answer all of our questions.   She came to LA for music but has always loved dogs. Her love for her work is obvious as she interacts with the furry members of our group.
The Dog Café takes in a lot of the "less adoptable dogs". They work with special needs and assist with rehab for those that need it. A great example is Rocket.
Rocket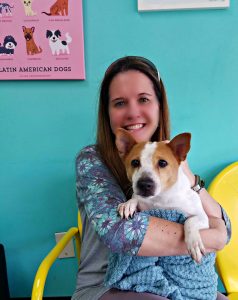 Rocket is originally from Korea. He lost one hind leg with a spinal cord injury and the other from an infection occurring in the leg since he was dragging it. He had a wheelchair donated but he doesn't really like it and prefers to scoot. He also gets very anxious around other dogs. Shasta says he totally understands. His arthritis makes him worry other, more hyper dogs, might knock him down and that it should be obvious Rocket would feel the same way.
It is actually because of Shasta I probably fell in love with…well all of them, but especially Rocket and Mimi. My heart just broke when I heard her story. At 13 she is the eldest dog at The Dog Café. Her "forever" family, who she had lived with since the time she was a puppy, decided to surrender her after she started getting older. She has arthritis and nervously licks her paws. Actually, she is obsessed with 2 things, her paws and her ball.
Mimi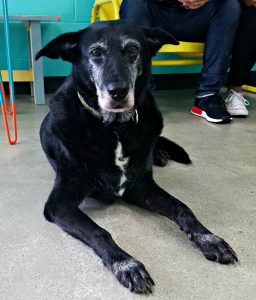 In fact, I connected with the dear, sweet Mimi that I sent her an extra special package. Our dear friend Elyse's "Ditch the Itch" (see our review of her fabulous Natural Paws products) and our new favorite supplement TechyFlex (watch for a review in the very near future). Of course, Shasta is sure Mimi will be sharing her loot with the other Café fur family members. Thanks to the Café she will be able to live out the rest of her life, even if not adopted, at The Dog Café amongst people who love her.
Ellie was a neglect case and has been at The Dog Café for several months. She remains a bit nervous but is diligent in her job protecting us from the security guard. The staff is patiently working on redirecting her energy.
Ellie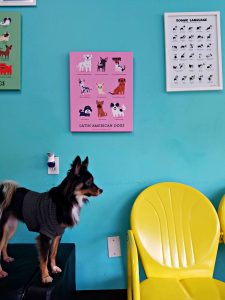 Boo is working on re-socialization. She was abused, needs left knee surgery and is very wary of people. As she entered the group we were told to just ignore her. She picked a place on a black chair (notice she blends in) and totally relaxed.
Boo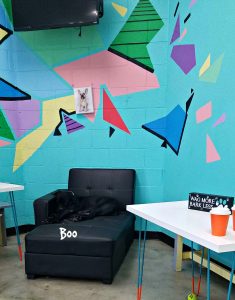 December 2016 was a great rescue month for the Café. Nine dogs were adopted and that opens spots for nine new dogs to be brought in. Just the morning of the day we were there they had filled two of those spots.
If you are ever in LA I highly recommend you add The Dog Café to your agenda. It is a VERY special place with fur kids (and the staff who love them) you will never forget. You might just find your own furry soul mate while you are there!
34 comments on "
A Behind the Scenes Look at The Dog Cafe LA

"