Rescue Dog Journal: Pet Therapy Dog Graduate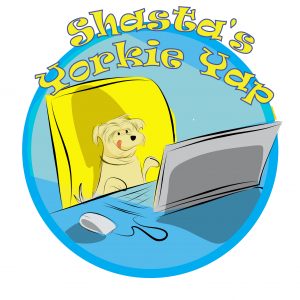 Therapy Dog Graduate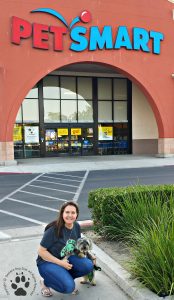 Dog mom has taken her sweet time getting around to helping me with my post. I graduated from Pet Smart and began my pet therapy hospital visits… almost a year ago. That is a whole 7 years in dog time… Uh hum, I am not a happy Shasta.   Dog mom says she is sorry and I should get on with my story.
I had a great time with my trainer Joe at PetSmart. I learned a lot and eventually passed the hardest test for me, leave it.   Did you know they put a whole pile of treats in the middle of the floor? Then they put me on one side of the pile and dog mom on the other. I am supposed to sit and stay until she tells me to come and then I have to walk around that WHOLE PILE of treats and LEAVE IT. I decided it was too tempting so I took the path to dog mom as far away from the treats as possible. I am not sure why everyone was laughing as I thought it was the smartest thing to do.
[bctt tweet="Can you pass up a pile of treats? I DID IT and became a Therapy Dog!" username="denisegruzensk"]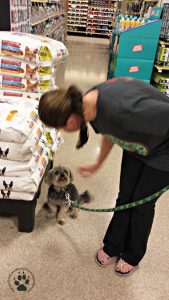 PetSmart has helped our Caring Paws program by providing a 7th week of school. Yep, I am an overachiever. During the 7th week they bring in all sorts of scaring things like wheelchairs, crutches and canes. Do you know what they do? They take them right past me. They roll, clunk and make all sorts of unfamiliar noises. Dog mom says it is to make sure I don't react. I guess I was a good dog because I passed and got my certificate.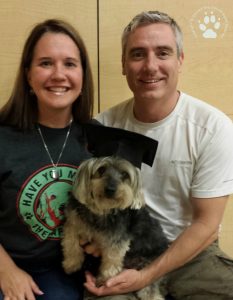 In August (2016-not to keep barking but like I said dog mom is way behind), I had my 1st trip to the hospital to visit patients. Now I understand why I had to get used to wheelchairs, crutches, IV poles and more. Adventist Health did such a nice video. I think I look quite handsome. What do you think?
Now I get to visit patients about every 6 weeks and I PAWsitively love my new job. Working as a pet therapy dog makes me feels so good. I get lots of lovin. The treats are not to shabby either. Dog mom and dad are so proud and they tell me all the time.
I think I'll forgive Dog mom. What do you think?
Coming Soon
We are also trying to name a new installment of my Rescue Dog Journal.     I'm going to take photos and write about livin the good life in California. Also taking you to some iconic places in our fabulous state. We could use your help with a name.
Also, keep an eye out. In May we had our road trip "Best Friends 2 Blog Friends".   Instagram and Facebook were the first places to catch our adventures. Check out our hashtags: #BF2BF and #RoadTrippinwithDenisesDogDish
I have been having some health problems. I know it worries Dog Mom and is part of the reason it is taking her so long to write. We make sure to take everything we learn on our journey and share to help you too so stay tuned!
37 comments on "
Rescue Dog Journal: Pet Therapy Dog Graduate

"